Asian Stocks Retreat as BOJ Negative-Rate Proposal Weakens Yen
Microsoft, Alphabet, Sony profits fall short of estimates

Topix rebounds as currency weakens; Shanghai Composite falls
Asian stocks retreated from a four-month high as companies including Sony Corp. and Microsoft Corp. reported earnings that missed estimates. Japanese shares rose and the yen weakened on news the Bank of Japan may consider offering negative-rate loans to banks.
Raw-materials producers led declines on the MSCI Asia Pacific Index after commodities prices lost ground on Thursday. The Shanghai Composite Index was headed for its steepest weekly loss since January, while Japan's Topix Index climbed to a two-month high as the yen slid as much as 0.7 percent. Canada's dollar led gains among the currencies of resource-exporting nations as U.S. crude rose toward $44 a barrel. South Korea's won was the biggest loser.
U.S. corporate results for the first quarter have mostly beaten projections so far, helping drive an equity rally that this week pushed a gauge of global shares to the highest level since early December. Google parent Alphabet Inc. and Microsoft on Thursday dimmed the picture somewhat as their earnings fell short of analysts' forecasts, while Sony announced an annual profit that was 9 percent lower than it predicted in January. Rallies this year in haven assets including precious metals and the yen are a sign investor sentiment remains cautious.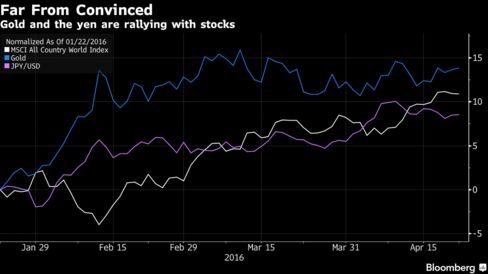 "There's been scant evidence of sustained earnings growth," said Matthew Sherwood, head of investment strategy at Perpetual Ltd. in Sydney, which manages about $21 billion. "It's too soon to declare that the earnings recession is over in all regions — things look better in the U.S., but central-bank policy in Europe and Japan appears increasingly deflationary and the prospect for strong economic recovery in emerging markets is still hard to fathom."
McDonald's Corp., General Electric Co. and Caterpillar Inc. are among firms scheduled to report earnings on Friday. The European Central Bank on Thursday refrained from adding to the unprecedented stimulus announced in March, while 23 of 41 economists surveyed by Bloomberg predict that the Bank of Japan will ease at a review next week. Having adopted a negative interest rate on some excess reserves to penalize financial institutions for leaving money idle, the Bank of Japan may consider helping them lend by offering a negative rate on some loans, according to people familiar with the matter.
Stocks
The MSCI Asia Pacific Index fell 0.3 percent, paring its weekly gain to 1.1 percent, as of 2:01 p.m. Tokyo time. Australia's S&P/ASX 200 Index slipped 0.4 percent and Hong Kong's Hang Seng Index lost 0.8 percent. The Shanghai Composite Index was down more than 4 percent for the week, reflecting concern that improving economic data will prevent further stimulus and corporate defaults will rise.
The Topix rallied 0.6 percent, reversing an earlier loss of as much as 1 percent. A gauge of banking stocks surged 5.2 percent to a two-month high on news of the potential support from the BOJ.
Sony slumped 2.2 percent after the company scaled back expected demand for the sensors and lenses that go into cameras as well as smartphones. The company is assessing the impact of this month's earthquake in Japan for earnings in the current year. Microsoft and Alphabet declined in after-hours U.S. trading.
Futures on the Standard & Poor's 500 Index gained 0.2 percent after the benchmark dropped by the most in two weeks. Contracts on the U.K.'s FTSE 100 Index dropped 0.5 percent.
Currencies
The yen fell 0.4 percent to 109.94 per dollar, set for a 1.1 percent weekly loss, after Bloomberg reported on the bank-loan proposal that's being discussed at the BOJ.
"We thought they would be doing more quantitative easing but it looks like they may be doing more on the negative-interest-rate front," said Joseph Capurso, a senior currency strategist in Sydney at Commonwealth Bank of Australia. That's driving the move lower in the Japanese currency and "if delivered, you'll get a temporary but significant spike up in dollar-yen," he said.
The euro rose 0.1 percent to $1.1302 before euro-area finance ministers and central bankers meet Friday in Amsterdam. It jumped as much as 0.9 percent in the last session and subsequently erased the gain as the ECB's policy statement and President Mario Draghi's news conference struggled to convince investors that unprecedented stimulus will jump-start growth in the region after years of failing to do so.
The Canadian dollar gained 0.2 percent, buoyed by the pickup in crude prices. The won fell 0.8 percent, wiping out the bulk of this week's advance, as the possibility of an interest-rate cut in South Korea leaves the currency vulnerable.
"There's a risk the Fed might sound a bit more hawkish to prepare the market for a rate hike in June," said Sim Moh Siong, a foreign-exchange strategist at Bank of Singapore Ltd. in the city-state. "Under that scenario the room for the won to further rally may be limited."
Commodities
Oil rose 1.4 percent to $43.79 a barrel, after falling Thursday from the highest level in almost five months amid rising U.S. crude stockpiles and speculation producers will be unable to agree on an output freeze. It's risen in all but one of the past 10 weeks, including an 8.5 percent jump over the past five days.
Gold was headed for a 1.1 percent weekly gain, while silver climbed to an 11-month high. The latter jumped more than 5 percent for the second week in a row, entering a bull market.
Bonds
The yield on 10-year U.S. Treasuries was little changed at 1.86 percent, about 10 basis points higher than at the end of last week. The yield on similar-maturity Australian government debt increased on Friday by three basis points to 2.63 percent.
The yield on Japan's 40-year bonds fell to a record 0.27 percent.
Source: Bloomberg
---