Swiss GDP Unexpectedly Stagnates in Third Quarter
Export growth driven solely by chemicals, pharmaceuticals
Swiss economic growth unexpectedly stalled in the third quarter, with momentum held back by weak performance in the energy, construction and financial sector.
Output was unchanged in the three months through September, after increasing of 0.2 percent in the prior period, the State Secretariat for Economic Affairs in Bern said on Tuesday. Economists in a Bloomberg survey had forecast a growth rate of 0.2 percent in the third quarter. The first-quarter growth rate was revised down to minus 0.3 percent from minus 0.2 percent.
"We're currently in a trough, you see that in the trade figures: there's still some digesting of the franc shock that needs to be done," said Cornelia Luchsinger, an economist at Zuercher Kantonalbank. "But for the next year we clearly see a recovery."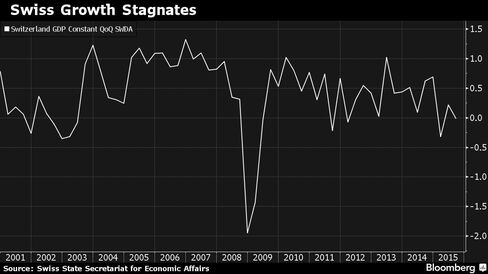 The economy has suffered this year due to the franc, which Swiss National Bank officials have termed "significantly overvalued," even with record-low interest rates and a pledge to purchase foreign currency. Switzerland's rate setters could find themselves easing policy further to prevent a surge in the franc if their euro-area counterparts boost stimulus on Dec. 3, thereby weakening the 19-country region's currency.
The franc, which traded at 1.08667 per euro at 8:21 a.m. in Zurich on Tuesday, has appreciated roughly 11 percent against the common currency since mid January, when the SNB abolished its minimum exchange rate. As a result, exports have weakened, and the manufacturing, tourism and retail sectors experienced a drop in demand. Still, cheaper imports mean Swiss shoppers have seen their purchasing power rise.
"Fears that the economy and in particular industry would collapse after the franc's appreciation haven't proved true — fewer jobs were cut than expected," SNB President Thomas Jordan told Handelszeitung in an interview last week. "But the process of adjustment isn't over yet. In the course of the next year unemployment should rise a bit."
Household consumption and that of non-profit organizations reported growth of 0.4 percent in the third quarter compared with the previous three months, the SECO data showed. The greatest contribution to growth came from health care, transport, housing and energy, it said. Investments in construction showed a "clear reduction."
Export Headwinds
Exports of goods excluding non-monetary gold, valuables and merchanting rose by 0.5 percent in the third quarter. Yet the rise was "solely driven" by chemical and pharmaceutical products. The remaining categories, including exports of watches, jewelry and precision tools, were lower.
"It confirms the picture that the domestic economy isn't yet affected by the strong franc, while foreign trade is suffering," said Claude Maurer, head of Swiss macroeconomic research at Credit Suisse Group AG in Zurich. "The classical growth drivers are still in place," he said. "The construction investments were negative, on the trade side we have big distortions due to price cuts. "
In a sign of the trouble export-oriented companies face, new orders received by the machine, electrical and metals industry orders dropped 12.8 percent in the third quarter of 2015 from a year earlier, with revenue down 6.7 percent. Some companies have cut prices in a bid to retain clients.
"There are currently few signs that the trough has bottomed out," industry bodySwissmem said on Nov. 20.
ECB Pressure
The central bank already has its deposit rate at minus 0.75 percent in a bid to dissuade investors from holding francs. A deposit rate cut by the European Central Bank that would weaken the euro could prompt the SNB to react to maintain the spread between interest rates. According to Bloomberg's most recent monthly economic survey, the SNB can go as low as minus 1.25 percent on the deposit rate.
Should the ECB boost stimulus, the SNB "will probably reduce the negative rate even more and intervene on currency markets if necessary," economist Ernst Baltensperger, Ph.D. supervisor of current SNB President Thomas Jordan, told Finanz und Wirtschaft in an interview last week.
The SNB's next scheduled policy assessment is on Dec. 10, a week after that of the ECB and prior to the U.S. Federal Reserve's on Dec. 16, at which officials may finally tighten policy. Such a decision could take some pressure off Swiss policy makers.
At it's quarterly meeting next week the SNB also will update its economic forecasts and offer a first take on 2016 growth. Its current view is for an output expansion of "just under" 1 percent in 2015, and a drop in consumer prices of 1.2 percent.
Economists surveyed by Bloomberg see growth at 0.9 percent this year, accelerating to 1.2 percent in 2016 and 1.7 percent in 2017.
Source: Bloomberg – Swiss GDP Unexpectedly Stagnates in Third Quarter
---