Yen climbs with Aussie and kiwi as Asian Stocks Mixed
Japan shares drop while Hong Kong equities gain after data

Yen climbs with Aussie and kiwi; crude slumps below $53
Asian stocks were mixed as investors continued to assess the staying power of a rally that brought global equities to a record. The yen strengthened with Treasuries ahead of next week's Federal Reserve meeting.
The MSCI Asia Pacific Index fluctuated while trading volumes slumped throughout much of the region. The Topix index retreated even as data showed Japan's economy expanded more than initially reported in the fourth quarter. Chinese shares traded in Hong Kong climbed as a report showed imports surged on seasonal factors. The dollar slipped after a two-day gain, while the yield on 10-year Treasury notes fell after climbing for seven days to reach 2.51 percent. Crude fell below $53 a barrel.
Trepidation is setting in after one of the steepest post-election rallies in history drove the value of global equities towards $71 trillion amid optimism Donald Trump can spur growth with huge spending projects and lower taxes. That pushed valuations on the MSCI All Country World Index to the highest since 2015, approaching the most expensive ever.
Data from Tokyo showed Japan's economy has expanded for four consecutive quarters, the longest run in more than three years. But the growth has been modest and mostly driven by exports, while private consumption at home remains soft. China's imports jumped 44.7 percent while exports rose 4.2 percent in February in yuan terms, though the results were skewed because of the timing of the week-long Lunar New Year holiday.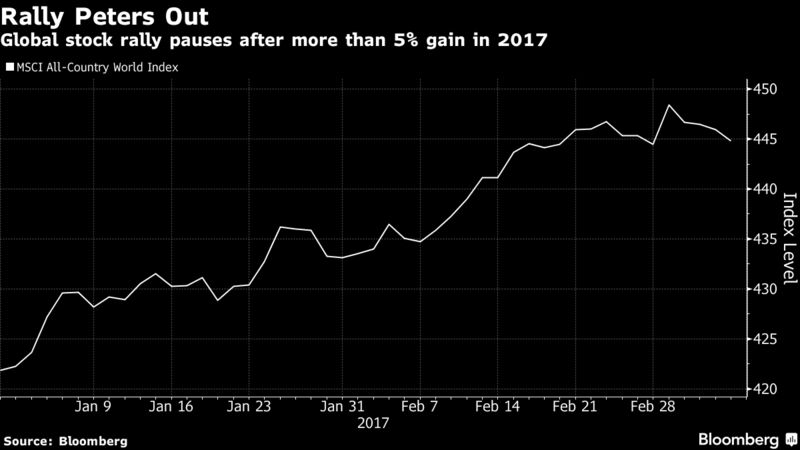 Expectations for swings in prices of bonds, currencies and stocks are all falling. Ever since Donald Trump gave his speech to a joint session of Congress last week and Fed officials including New York Fed President William Dudley ramped up odds of an interest-rate hike this month, volatility metrics across the board have plunged.
What's ahead for the markets:
Mario Draghi probably won't flinch at Thursday's ECB meeting even after headline inflation reached its 2 percent target in February. He's expected to keep QE going until the end of the year with underlying price pressures muted.
U.S. jobs data for February are due Friday. Employers probably added around 190,000 workers to payrolls, in line with the average over the past six months and a sign of steady job growth, economists forecast.
Philip Hammond's U.K. budget arrives Wednesday. The chancellor pledged on Sunday to set aside money to cushion the economy from Brexit.
Here are the main moves in markets:
Stocks
The MSCI Asia Pacific Index fell less than 0.1 percent as of 2:52 p.m. in Tokyo, with almost 600 shares falling against about 350 advancing. Japan's Topix index dropped 0.4 percent, retreating for the third time in four days.
Chinese shares traded in Hong Kong increased 0.4 percent, while the Hang Seng index added 0.3 percent.
Contracts on the S&P 500 slipped 0.2 percent. The benchmark index lost 0.3 percent on Tuesday, completing the first back-to-back declines since January. Health-care shares declined after Republicans released details of a replacement for Obamacare and the president tweeted about lowering drug costs for Americans.
The Stoxx Europe 600 fell 0.3 percent on Tuesday, after a 0.5 percent drop on Monday.
Currencies
The yen rose 0.2 percent to 113.75 per dollar. The Australian dollar advanced 0.1 percent and the New Zealand dollar added 0.2 percent.
The Bloomberg Dollar Spot Index declined less than 0.1 percent.
Bonds
Yields on 10-year Treasuries fell one basis point to 2.51 percent, weakening for the first time in eight days.
Australian benchmark yields gained four basis points to 2.86 percent and New Zealand yields climbed two basis points to 3.33 percent.
Commodities
Gold increased 0.1 percent to $1,217.44per ounce after declining 0.8 percent in each of the past two trading sessions.
Oil lost 0.6 percent to $52.82 a barrel as U.S. industry data showed crude stockpiles expanded, adding to an inventory overhang.
Copper advanced for the first time in five sessions, while iron ore and aluminum also climbed.
Source: Bloomberg
---