Dollar Slides Fourth Day, Asian Stocks Are Mixed: Markets Wrap
Australia 10-year bond yield slides for fifth day in six

New Zealand shares tumble, yen maintains last week's strength
A gauge of the U.S. dollar headed for its longest losing streak since Donald Trump won the election, while stocks faltered even with a global index at an all-time high.
Equities retreated in Australia, South Korea, Singapore and New Zealand, as did S&P 500 Index futures. Japan's stock market is closed Monday for a holiday. Stock indexes rose in Hong Kong, Malaysia and Thailand, while shares in mainland China swung between gains and losses. The Australian 10-year yield resumed a retreat after rising at the end of last week. The yen touched its strongest in three weeks, while the Korea won was the highest in five months. Oil fell for the ninth day in 11.
Volatility remains low across markets from equities to currencies and fixed-income as investors strive to assess how sustainable the nascent global economic recovery is. Money managers will be scrutinizing a flurry of Chinese company earnings that are due this week from Tencent Holding Ltd. to Cnooc Ltd.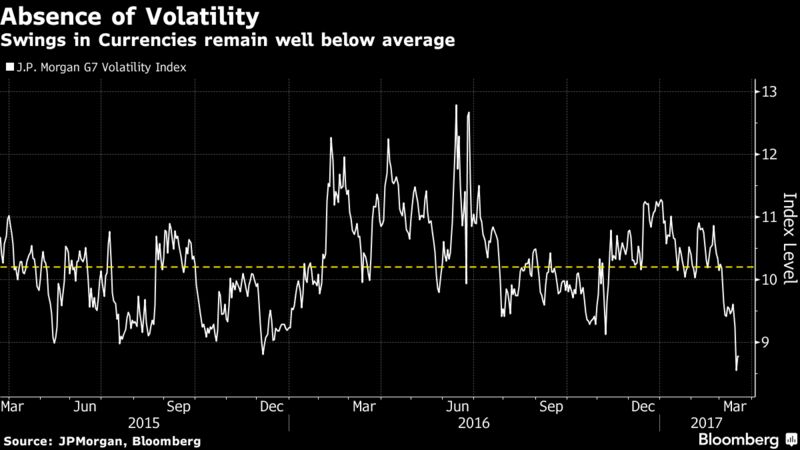 The Group of 20 nations omitted a pledge to resist all forms of protectionism in its communique from its meeting in Baden-Baden, Germany at the weekend. That shift followed hours of wrangling that kept officials in suspense on whether the G-20 would even mention trade, with occasional doubts that a communique might be produced at all.
What's coming up this week:
Central bank policy decisions in New Zealand, Philippines and Sri Lanka.
Japan Prime Minister Shinzo Abe to host trade talks with the European Union on Tuesday.
A deluge of earnings from Chinese companies, including: Citic Securities, Sinopec and Ping An.
Reserve Bank of Australia Governor Guy Debelle speaks Wednesday in Singapore.
Here are the main market moves:
Currencies
The yen rose 0.2 percent to 112.53 per dollar as of 1:37 p.m. in Hong Kong, its strongest since Feb. 28.
The South Korean won jumped 0.9 percent to its highest since Oct. 20, leading gains in emerging Asian markets. The baht also reached its strongest level since October, while the currencies of Malaysia, Indonesia and Taiwan also rallied.
The euro climbed 0.2 percent to $1.0762, while the Australian and New Zealand dollars rose 0.3 percent and 0.5 percent, respectively.
Stocks
Futures on the S&P 500 Index were down 0.2 percent. The underlying gauge rose 0.2 percent last week.
Australia's S&P/ASX 200 Index lost 0.4 percent and South Korea's Kospi index fell 0.5 percent. The Hang Seng Index advanced 0.5 percent, while the Shanghai Composite Index declined 0.1 percent.
The Malaysian and Thai benchmark indexes rose 0.2 percent and 0.3 percent.
New Zealand's S&P/NZX 50 Index slid 1.4 percent, dragged lower by Fletcher Building Ltd., which identified more expected losses in its construction division.
Bonds
The yield on 10-year Australian government bonds dropped four basis points to 2.82 percent.
Futures on 10-year Treasuries rose 1/8 to 123 3/4.
Commodities
West Texas Intermediate crude slid 0.9 percent to $48.35 a barrel. It has dropped 10 percent this month, heading for the steepest one-month slide since July.
Gold rose 0.4 percent to $1,234.24 an ounce, climbing for a fourth day.
Base metals fell on the London Metal Exchange, with copper forwards down 0.6 percent and tin retreating 0.4 percent.
Source: Bloomberg
---