Stocks Climb as Japan Data Spur Growth Optimism: Markets Wrap
New Zealand hits inflation target for first time in 5 years

Equity indexes in Japan, Hong Kong and Australia all rise
Asian stock markets climbed as oil recovered some of its slump and better-than-forecast trade figures in Japan boosted optimism in the global economy. The kiwi dollar surged as inflation in New Zealand accelerated more than forecast.
Japan's Topix headed for its first weekly gain in more than a month. Australian equities also climbed and Hong Kong shares halted a three-day retreat. Futures on the S&P 500 Index ticked higher after a rout in crude dragged U.S. shares lower, as the plunge in oil eased Thursday. The kiwi climbed after New Zealand inflation reached the central bank's target for the first time in more than five years.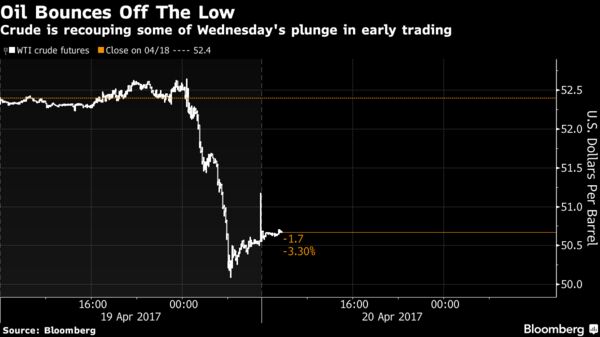 Japanese exports grew at the fastest rate in more than two years in March, supporting the bullish view in the debate over the health of the global economy. The Federal Reserve's Beige Book report showed the U.S. economy continued to expand steadily and Fed Vice Chairman Stanley Fischer painted a picture of brightening global growth that can better withstand gradual monetary tightening. BlackRock Inc. boss Laurence D. Fink said lackluster growth in the American economy and uncertainty around the Trump administration's ability to quickly pass key reforms pose a risk to markets.
Ahead of the first round of voting in France's presidential election this weekend, polling is suggesting it will be a close call. Every poll for the past month has shown independent Emmanuel Macron and the National Front's Marine Le Pen taking the top two spots. Macron would then easily win the May 7 runoff, polls show. Yet both front-runners have been steadily slipping over the past two weeks, and Republican Francois Fillon and Communist-backed Jean-Luc Melenchon are now within striking distance.
Upcoming events that investors will be watching:
U.S. Vice President Mike Pence continues his Asia-Pacific trip with a stop in Jakarta.
Indonesia's central bank decision is due Thursday. Here's a guide.
The first round of voting in the French election is on Sunday and the two leading candidates will run off in a winner-takes-all contest on May 7.
Here are the main moves in markets:
Stocks
Japan's Topix index added 0.4 percent as of 2:11 p.m. in Tokyo, bringing its weekly gain to 1.2 percent. The Hang Seng advanced 0.5 percent, Australia's S&P/ASX 200 Index climbed 0.3 percent and South Korea's Kospi index was up 0.4 percent.
The Shanghai Composite was little changed, after four days of losses brought it to the lowest level since Feb. 8.
S&P 500 futures rose less than 0.1 percent. The underlying gauge slid 0.2 percent on Wednesday.
Currencies
The yen slipped 0.1 percent to 108.94 per dollar, following a 0.4 percent decline on Wednesday.
The kiwi rose 0.5 percent to 70.36 U.S. cents. The Aussie rose 0.1 percent to 75.06 U.S. cents after a 0.8 percent slide Wednesday.
The Bloomberg Dollar Spot Index fell less than 0.1 percent after rising 0.5 percent Wednesday.
Bonds
The yield on 10-year Treasuries slid one basis point to 2.20 after a five basis point advance Wednesday.
Australian government bond yields with a similar maturity added five basis points to 2.50 percent.
Commodities
Oil added 0.1 percent to $50.51 a barrel, after tumbling 3.8 percent Wednesday when a report showed U.S. gasoline supplies increased for the first time since February, while crude output keeps rising.
Gold fell 0.1 percent to $1,278.88 an ounce.
Copper rose 0.3 percent, climbing from the lowest level since early January as Rio Tinto Group reported lower-than-expected production in the first quarter and reduced its full-year guidance by as much as 25 percent amid disruptions at top two mines.
Iron ore futures fell 3 percent, resuming a selloff after rallying 2.6 percent on Wednesday.
Source: Bloomberg
---