Asian Stocks Gain on Kuroda, U.S. Tax Reform Hopes: Markets Wrap
BOJ head Kuroda sees accommodative policy continuing in Japan

Steve Mnuchin says tax reform in U.S. will be sweeping
Equities climbed across Asia as optimism spread for a U.S. tax overhaul and the yen weakened after Bank of Japan Governor Haruhiko Kuroda said he will keep accommodative policy in place.
Shares from Japan, South Korea and Indonesia led gains as the MSCI Asia Pacific Index rallied the most since the end of March. The S&P 500 Index had its second-best day in a month as U.S. Treasury Secretary Steven Mnuchin said plans to reform taxes have progressed. The euro was steady after a police officer was shot in Paris just days before France's presidential election starts. Oil headed for its first weekly loss in a month while iron ore jumped for a third session.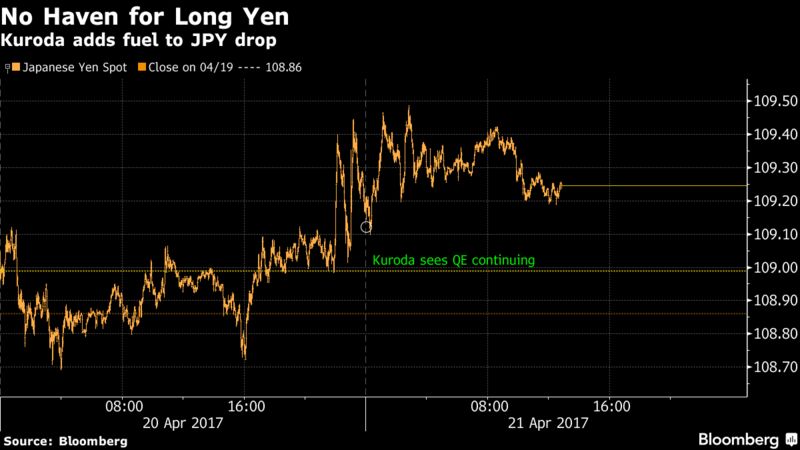 Mnuchin's comments eased growing concern that President Donald Trump's fiscal agenda is foundering, while the odds for a rate hike in June climbed toward 60 percent after Dallas Fed President Robert Kaplan reiterated that three increases this year remain appropriate. Earnings continued to paint a mixed picture on the health of the economy, while investors kept an eye on a series of elections in Europe and tensions around North Korea and Syria that threaten to ratchet up market risks.
While Japan's economy is doing better than thought a few months ago, the inflation rate is still quite sluggish, BOJ governor Kuroda said in New York on Thursday. Read more of our interview with him here.
"It looks like the Trump administration wants to reignite the market's expectations for policies," said Hideyuki Ishiguro, a senior strategist at Daiwa Securities Co. in Tokyo. "Kuroda's comments didn't diverge from his past stance, but since the yen had strengthened a fair amount it became a trigger for some profit taking."
Here are some events that investors will be watching:
U.S. Vice President Mike Pence continues his Asia-Pacific trip with a stop in Indonesia and Australia.
The first round of voting in the French election is on Sunday, and the two leading candidates will run off in a winner-takes-all contest on May 7.
Here are the main markets moves:
Stocks
The MSCI Asia Pacific Index increased 0.7 percent, the most since March 28, as of 1:01 p.m. in Tokyo. The gauge is up 0.4 percent for the week, set to break a four-week string of declines. The MSCI Emerging Markets Index advanced 0.4 percent, with Jakarta's benchmark gaining 0.7 percent.
Japan's Topix index rose 0.9 percent, heading for its first weekly gain in more than a month. Australia's S&P/ASX 200 Index climbed 0.7 percent. South Korea's Kospi index jumped 0.9 percent.
Hong Kong's Hang Seng was flat after climbing as much as 0.6 percent earlier. The Shanghai Composite increased 0.1 percent.
Futures on the S&P 500 were little changed. The underlying gauge rose 0.8 percent Thursday, with American Express surging nearly 6 percent to pace gains in the financial group after its results topped estimates. The Stoxx Europe 600 Index edged higher by 0.2 percent.
Currencies
The yen rose less than 0.1 percent to 109.24 per dollar, after dropping 0.4 percent in each of the past two sessions. The currency is down 0.6 percent for the week.
The Bloomberg Dollar Spot Index was little changed, poised for a weekly decline of 0.3 percent after touching the lowest level since the U.S. election in November.
The New Zealand dollar fell 0.2 percent after gaining as much as 0.7 percent on Thursday.
The euro was flat at $1.0717. Paris's Champs Elysees was shut after a police officer was killed and two others injured in a shooting that the government is treating as a terrorist attack.
Bonds
The yield on 10-year Treasuries rose one basis point to 2.24 percent, climbing for a third straight day.
Australian benchmark yields gained four basis points to 2.54 percent.
Commodities
West Texas Intermediate crude oil rose 0.1 percent to $50.74 a barrel. Oil has tumbled 5.3 percent this week amid a report showing U.S. gasoline supplies increased for the first time since February, while crude output keeps rising.
Gold fell 0.2 percent to $1,280.01, poised for its first weekly loss in more than a month.
Iron ore futures climbed more than 3.6 percent, rallying for a third straight day.
Source: Bloomberg
---