Global Stock Rally Lives On Amid Earnings Optimism: Markets Wrap
Chalco profit follows results from McDonald's, Caterpillar

Japan equities climb amid yen weakness; Australian shares rise
Asian stocks extended a global rally after corporate results and hopes of U.S. tax reform boosted optimism for global growth. Weakness in the yen lifted Japanese equities for a fifth day.
The MSCI Asia Pacific Index climbed to the highest level since mid-2015 after strong earnings from the likes of Aluminum Corp. of China Ltd., Caterpillar Inc. and McDonald's Corp. The yen extended losses while gold held declines. The Canadian dollar maintained losses following Donald Trump's decision to slap a 24 percent tariff on imported softwood lumber. The Aussie fell after inflation data missed estimates.
"Confidence has returned and the yen has fallen back in value," said Shane Oliver, head of investment strategy at AMP Capital Investors in Sydney. "Markets seem a lot more relaxed. Globally, we're seeing a lot of risk-on."
Global equities jumped to an all-time high this month as European political risk abated and the U.S. economy continues to show signs of improvement amid better-than-forecast earnings results. U.S. President Donald Trump is expected to unveil a tax plan on Wednesday that would cut the upper corporate rate to 15 percent.
Risks remain as investors await central bank meetings this week in Japan and Europe. Tensions around North Korea continue to simmer. And in China, concerns of a crackdown from regulators has left the world's second-largest stock market trading near a four-month low.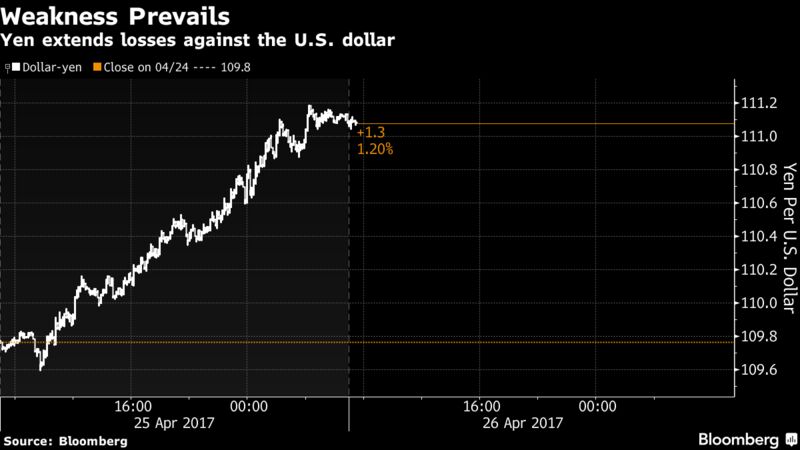 Here are some key upcoming events that investors are watching:
Alphabet Inc., Microsoft Corp., Amazon.com Inc., Twitter Inc., Intel Corp., Credit Suisse Group AG, Barclays Plc, Bayer AG, Daimler AG and Total SA are among major companies releasing results this week.
The Bank of Japan is widely expected to keep the settings on its monetary easing program unchanged at the end of a two-day policy meeting on Thursday. Though inflation remains well below the central bank's 2 percent target, it's ticking up.
The European Central Bank sets monetary policy later that same day. With officials indicating little chance of a policy change, the focus will be on any signals from President Mario Draghi that the ECB is starting to discuss an exit from its extraordinary stimulus.
U.S. GDP is due at the end of the week. It's projected to show the economy expanded at a 1.0 percent annualized rate in the first quarter, the weakest pace in a year.
Here are the main moves in markets:
Currencies
The yen slipped 0.1 percent to 111.25 per dollar as of 1:44 p.m. in Tokyo, after dropping 1.2 percent on Tuesday. The currency is down 2.6 percent from a five-month high reached last week.
The Aussie dropped 0.2 percent to 75.18 U.S. cents. Australia's annual core inflation accelerated last quarter to just below the lower end of the central bank's target, underscoring its decision to leave interest rates unchanged.
The Canadian dollar rose less than 0.1 percent to 1.3563 per dollar after dropping 0.5 percent Tuesday as Trump intensified a trade dispute with Canada, slapping tariffs of up to 24 percent on imported softwood lumber.
Stocks
Japan's Topix index rose 1 percent, climbing for a fifth straight day for the longest winning streak this year. Hong Kong's Hang Seng rose 0.6 percent and Singapore's Straits Times Index increased 0.4 percent.
Australia's S&P/ASX 200 Index added 0.8 percent and New Zealand's S&P/NZX 50 Index increased 1.4 percent, the most since November, as both markets reopened after a holiday on Tuesday. South Korea's Kospi index climbed 0.4 percent.
The Shanghai Composite Index added 0.4 percent after climbing 0.2 percent on Tuesday.
Futures on the S&P 500 Index was flat after the underlying gauge climbed 0.6 percent on Tuesday, to within 10 points of its closing record. The Dow rose 1.1 percent, leaving it about 0.5 percent below its all-time high reached March 1. The Nasdaq Composite added 0.7 percent to close at an all-time high. The Stoxx Europe 600 Index gained 0.2 percent to the highest since August 2015.
Commodities
Gold was little changed at $1,264.47, after dropping 1 percent on Tuesday as investors turn attention to Trump's agenda to boost U.S. growth.
Crude resumed declines, losing 0.2 percent to $49.47 per barrel, after halting a six-day selloff on Tuesday.
Bonds
The yield on 10-year Treasuries was little changed at 2.34 percent, after climbing for five straight sessions.
Australian government debt with a similar maturity saw yields rise four basis points to 2.63 percent.
Source: Bloomberg
---