USD/CHF retains bearish outlook
Pair's Outlook
At first the new up-trend support line triggered a rally in USD/CHF, forcing it to surge all the way to 0.8832/31. But subsequently the currency pair did not manage to withstand the selling pressure and was broken. Accordingly, there are now very few reasons why the rate will not test 0.8712/06, namely the monthly S1 and weekly S2. Additionally, there is a majority of the 'sell' signals among the technical indicators, though this advantage is quite fragile.
Traders' Sentiment
SWFX traders remain optimistic with respect to USD/CHF, as evidenced by a further increase in the share of the bullish positions to 73.5%. The number of buy commands also increased, from 67% to 72% up and down 50 pips from the spot price.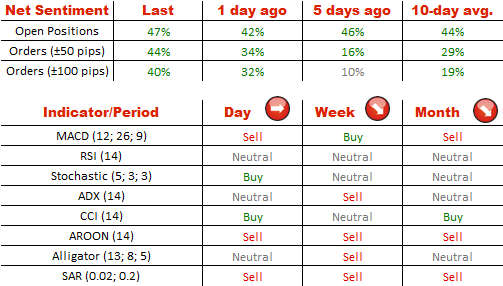 Source: DukascopySA
---