USD/CHF bounced off 0.8824/13
Pair's Outlook
There was only a brief rally yesterday during which USD/CHF closed a bearish gap—nothing critical was altered by this behaviour of the pair. The bias therefore remains negative and it implies a decline down to the 2011 lows at 0.86, where the greenback is supposed to meet the falling support line that has been in force since the second quarter of 2013. This view is reinforced by the technical indicators, though the 'sell' signals they provide are weak for now.
Traders' Sentiment
The gap between the longs and shorts narrowed compared to the previous report, but the bulls still dominate the market by taking up 70% of it. The distribution between the buy and sell orders 100 pips from the spot is in favour of the former—58%.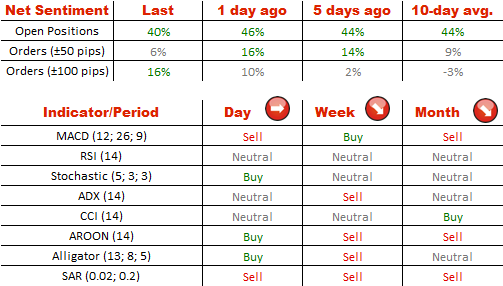 Source: DukascopyBankSA
---