China's Foreign Reserves Post Record Quarterly Drop on Yuan
Stockpile shrinks $180 billion as PBOC props up currency

Decline in September less than expected, boosting yuan
China's foreign-exchange reserves fell by a record in the third quarter as the central bank sold dollars to support the yuan after a surprise Aug. 11 devaluation sparked the currency's steepest slide in two decades.
The stockpile plunged by $180 billion in the three months through September to $3.51 trillion, according to Bloomberg calculations based on data released by the People's Bank of China on Wednesday. The hoard shrank $43.3 billion in September, less than the $57 billion predicted in a Bloomberg survey, suggesting the pace of central bank intervention has eased.
The PBOC devalued the yuan and switched to a more market-oriented reference rate in August, prompting a 2.6 percent decline in the currency that month and a record$141.66 billion of estimated capital outflows. The monetary authority has been intervening in both the onshore and offshore markets to prop up its exchange rate, a strategy that drains the nation's reserves and weighs on the supply of money in the domestic market.
"China has been trying to converge the rates in both the onshore and offshore markets," said Khoon Goh, a senior strategist at Australia & New Zealand Banking Group in Singapore. "The pace of intervention should slow as the dollar is weaker and the onshore and offshore rates are more or less converged."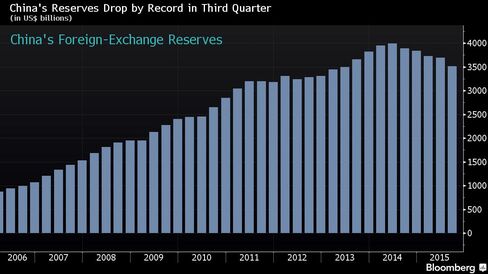 The offshore yuan, which last week traded stronger than the Shanghai spot price for the first time since July, posted the biggest monthly advance in four years in September. Its discount to the onshore price exceeded 2 percent a day after the devaluation on anticipation of further declines.
The currency in Hong Kong strengthened after the reserves data, trading 0.13 percent higher at 6.3474 a dollar as of 11:02 a.m. local time. Onshore markets reopen on Thursday after a week-long holiday.
The yuan overtook Japan's yen to become the fourth most-used currency for global payments in August, rising to its highest ranking ever and boosting its claim for reserve status at the International Monetary Fund. The proportion of transactions denominated in yuan climbed to a record 2.79 percent in August, from 2.34 percent in July, according to a Society for Worldwide Interbank Financial Telecommunications statement on Tuesday.
The report came as the IMF prepares to conduct a twice-a-decade review of its Special Drawing Rights basket, which currently comprises the U.S. dollar, euro, yen and the British pound. China has been pushing the yuan's case for inclusion, which Standard Chartered Plc estimated could trigger as much as $1 trillion of inflows into the currency.
The central bank has this year lowered the proportion of deposits that lenders must lock away in an effort to offset capital outflows and intervention to support the yuan.
Source: Bloomberg – China's Foreign Reserves Post Record Quarterly Drop on Yuan
---