Oil Rises as Canadian Fires Spread, Saudi Oil Minister Replaced
Canada wildfires cut oil-sands production by about 40%: IHS

Ali al-Naimi succeeded by Al-Falih, head of state oil company
Crude rose as expanding wildfires in Canada knocked out about 1 million barrels a day of output, and after Saudi Arabia replaced Oil Minister Ali al-Naimi with a close ally of the deputy crown prince.
Futures increased as much as 2.9 percent in New York and 2.5 percent in London. Theblaze has led to cuts equivalent to about 40 percent of Canada's oil-sands production, based on IHS Energy estimates. Al-Naimi will be succeeded by Saudi Arabian Oil Co. Chairman Khalid Al-Falih, an ally of Prince Mohammed bin Salman, who has backed the nation's policy of prioritizing market share over prices and insisted any output freeze must involve Iran.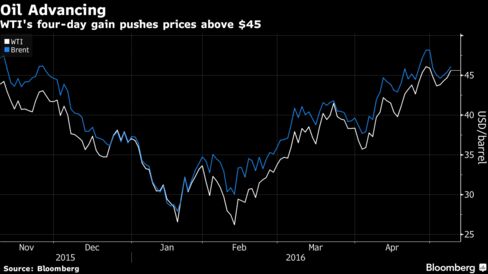 Oil has rebounded after slumping to the lowest level since 2003 earlier this year amid signs the global oversupply will ease as U.S. output declines. While American production has dropped, the Organization of Petroleum Exporting Countries has boosted supply to more than 33 million barrels a day, underpinned by gains from Iran and Iraq.
"The market is taking a cautious approach to the Canadian fires and keeping the price a little higher given it's in the vicinity of the main producing region," said David Lennox, an analyst at Fat Prophets in Sydney. "There is no doubt the Saudi policy is working, we're seeing declines in U.S. production. The stockpile situation will probably keep any rally from being substantive."
West Texas Intermediate for June delivery gained as much as $1.28 to $45.94 a barrel on the New York Mercantile Exchange and was at $45.50 at 1:08 p.m. Hong Kong time. The contract advanced 34 cents to close at $44.66 on Friday. Total volume traded was more than double the 100-day average.
Oil Minister
Brent for July settlement rose as much as $1.11 to $46.48 a barrel on the London-based ICE Futures Europe exchange. The contract increased 36 cents to $45.37 on Friday. The global benchmark crude was at a discount of 8 cents to WTI for July.
Canadian oil-sands producers Suncor Energy Inc, the country's biggest energy company, Phillips 66 and Statoil ASA have declared force majeure — a provision protecting companies from liability for contracts that go unfulfilled for reasons beyond their control — on supplies from the region.
While the fire approached Suncor's operations, there was no damage as firefighters held the blaze southwest of the area and the company said it has begun planning the restart of production. Current weather conditions and forecasts show the fire moving east, away from the site, Suncor said. Cnooc Ltd.'s Nexen operations to the south of Fort McMurray have suffered "minor" damage, said Chad Morrison, a wildfire manager for the Alberta government.
Non-OPEC supply is poised to slip by about 700,000 barrels a day this year, while global demand is forecast to rise by about 1.2 million barrels daily, according to the International Energy Agency. Al-Falih, speaking in January at the World Economic Forum in Davos, indicated that the country plans to act vigorously to defend its market share and exports as the market re-balances.
Oil-market news:
China imported 32.58 million metric tons of oil in April, data from the Beijing-based General Administration of Customs showed on Sunday. That's equivalent to 7.96 million barrels a day, up 3.2 percent from the previous month and near a record 8.04 million in February.
Speculators decreased their long positions in WTI by 3.8 percent for the week ended May 3, the most since February, according to data from the Commodity Futures Trading Commission.
Source: Bloomberg
---