Asian Stocks Gain After Global Rally; Yen Weakens
Euro holds advance following surge sparked by French elections

China shares rise after selloff; investors watch North Korea
Asian equities extended a global rally as Chinese shares climbed after a selloff and North Korean artillery drills did little to ruffle markets. The yen weakened with gold.
Stocks in Japan and Hong Kong led gains after the MSCI All-Country World Index closed at a record and European shares surged to a 20-month high in the wake of French elections. Volatility continued to melt away as Shanghai stocks climbed from a three-month low on speculation concerns of a regulatory crackdown were overdone. The dollar rose against most major peers, while Treasuries maintained losses. Australia and New Zealand are closed Tuesday for Anzac Day.
Markets jumped Monday as Emmanuel Macron advanced as the favorite in the presidential runoff, easing concerns that France will leave the euro currency bloc. With worries over China and North Korea also in check for the moment, traders are turning their attention to a raft of other potential market-moving events, including corporate earnings and U.S. President Donald Trump's agenda for the world's largest economy.
"The uplift in risk appetite had been the result of a single event, but this week carries with itself a multitude of factors to look out for," said Jingyi Pan, a market strategist in Singapore at IG Asia Pte Ltd. "The second half of the week certainly brings President Donald Trump back to the stage as he presents both opportunities, in the form of his tax package, and risk, should his push for the border wall drive the U.S. government to a shutdown."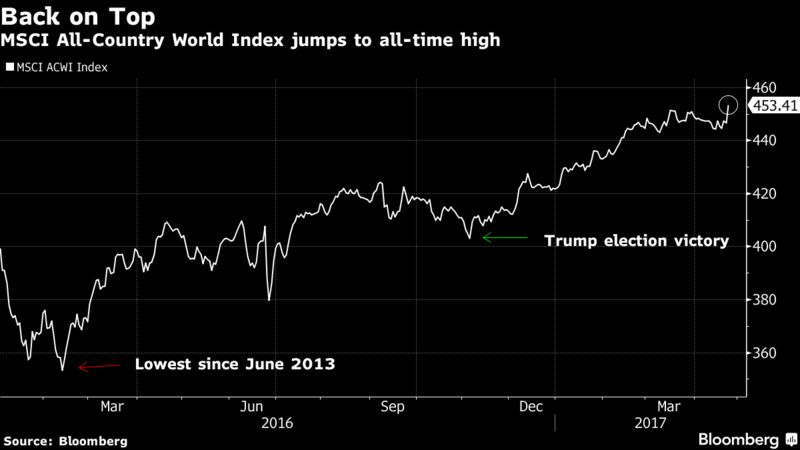 Trump will call for cutting taxes for individuals and lowering the corporate rate to 15 percent when he unveils his plan Wednesday, according to a White House official. At the same time, the administration appeared ready to go to the mat for its planned Mexican border wall in this week's must-pass spending bill, setting up a clash with Democrats that may make a government shutdown at week's end more likely.
While investors shrugged off North Korea's largest-ever live-firing drill to mark the 85th anniversary of the Korean People's Army, the situation remains tense. Trump warned of imminent action to contain North Korea's nuclear threats, while Chinese President Xi Jinping called for restraint in a phone call with the U.S. president.
Other events that may move markets this week:
Alphabet Inc., Microsoft Corp., Amazon.com Inc., Twitter Inc., Intel Corp., Credit Suisse Group AG, Barclays Plc, Bayer AG, Daimler AG and Total SA are among major companies releasing results this week.
The Bank of Japan is widely expected to keep the settings on its monetary easing program unchanged at the end of a two-day policy meeting on Thursday. Though inflation remains well below the central bank's 2 percent target, it's ticking up.
The European Central Bank sets monetary policy later that same day. With officials indicating little chance of a policy change, the focus will be on any signals from President Mario Draghi that the ECB is starting to discuss an exit from its extraordinary stimulus.
U.S. GDP is due at the end of the week. It's projected to show the economy expanded at a 1.0 percent annualized rate in the first quarter, the weakest pace in a year.
Here are the main market moves:
Stocks
The MSCI Asia Pacific Index was up 0.7 percent as of 2:26 p.m. in Tokyo, rising for a fourth day. Japan's Topix rose 1 percent after jumping a similar amount Monday. South Korea's Kospi increased 0.7 percent. Taiwan's Taiex jumped 0.9 percent and Singapore's Straits Times Index added 0.5 percent.
The Shanghai Composite advanced 0.4 percent. The index tumbled 1.4 percent Monday, the most since Dec. 12 and falling below its 200-day moving average for the first time since late September.
Hong Kong's Hang Seng rallied 1.1 percent, with a volatility gauge for the index falling to the lowest level in two years. The Hang Seng China Enterprises Index jumped 1.6 percent, the most in a month.
Contracts on the S&P 500 added 0.2 percent. The index climbed 1.1 percent Monday to within 1 percent of its all-time closing high. The Stoxx Europe 600 Index jumped 2.1 percent to the highest since August 2015. France's CAC 40 soared 4.1 percent while Germany's DAX climbed 3.4 percent.
Currencies
The euro was flat at $1.0867, after its biggest advance since June on Monday.
The yen fell 0.3 percent to 110.08 per dollar. The currency dropped 0.6 percent in the previous session.
The Bloomberg Dollar Spot Index increased 0.1 percent, after slipping 0.5 percent Monday. Malaysia's ringgit and Indonesia's rupiah climbed at least 0.3 percent, leading gains in emerging markets as they caught up with peers following Monday holidays.
The Canadian dollar dropped 0.4 percent to the lowest level of the year as Trump was reported to say he would impose a 20 percent tariff on Canadian softwood lumber.
Bonds
U.S. bonds headed for a fifth day of declines, with yields on 10-year Treasuries climbing less than one basis point to 2.28 percent after rising three basis points Monday.
The yield on French 10-year notes dropped 11 basis points to 0.83 percent Monday.
Commodities
Gold lost 0.2 percent to $1,273.76 after slipping 0.6 percent on Monday.
Oil advanced 0.5 percent to $49.46 following six straight days of losses.
Source: Bloomberg
---