Aussie Stocks Drop, Taiwan Bucks Poor Apple Result: Markets Wrap
Japan and Hong Kong among Asian markets shut on Wednesday

Kiwi dollar climbs as jobless rate in New Zealand declines
Australian stocks dropped, while a poor Apple Inc. earnings report proved no bar to gains in Taiwan's electronics-rich stock market and its dollar, in Asia-Pacific trading lulled by market closures ahead of the Federal Reserve's policy meeting.
Australia's benchmark stock index headed for its biggest loss since March, hurt by weaker iron-ore prices and banking shares. Apple fell in after-hours U.S. trading after reporting falling iPhone sales, pulling Nasdaq futures with it. The advance in Taiwan assets underscored investors' continuing appetite for emerging markets amid an upturn in global trade. Crude rose back above $48 a barrel. Equity markets in Hong Kong, Japan and South Korea are closed for holidays.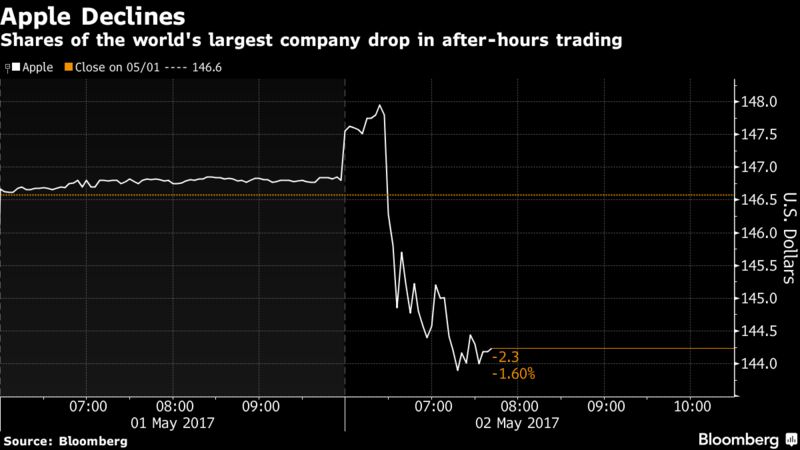 Investors may yet be reluctant to commit to much direction ahead of the Fed's policy review and Friday's jobs report, in light of a recent spate of weaker U.S. economic indicators. The French election on Sunday poses another event risk.
Here are key upcoming events and data releases due:
Investors will be watching comments from a policy meeting of the Federal Open Market Committee Wednesday.
Voters in France go to the polls on Sunday for the second round of presidential elections.
Companies scheduled to release earnings this week include: BNP Paribas SA, Facebook Inc., HSBC Holdings Plc, Time Warner Inc., BMW AG, Royal Dutch Shell Plc and Volkswagen AG.
Here are the main moves in markets:
Currencies
The yen traded at 112.04 per dollar as of 12:03 p.m. in Tokyo, after four days of losses.
The kiwi rose as much as 0.5 percent after New Zealand's first-quarter payrolls climbed more than forecast, though the move later eased; it was at 69.46 U.S. cents
The Taiwan dollar was up 0.1 percent at 30.01 per U.S. dollar.
Stocks
Australia's S&P/ASX 200 Index slid 1 percent, with declines in shares from BHP Billiton Ltd. to Australia & New Zealand Banking Group Ltd., which missed profits estimates Tuesday.
Futures on the Nasdaq 100 lost 0.3 percent after that gauge and the Nasdaq Composite both posted a record high. Futures on the S&P 500 retreated 0.1 percent after the underlying gauge rose 0.1 percent Tuesday, when the Stoxx Europe 600 Index gained 0.8 percent.
Taiwan's Taiex gained 0.1 percent. Hon Hai Precision Industry Co. which makes Apple's iPhones, was up 0.5 percent, shrugging off its customer's report on weaker sales.
Bonds
Yields on 10-year Treasuries fell 4 basis points to 2.28 percent Tuesday, reflecting recent disappointment in consumer spending and price data.
The yield on Australian government bonds with a similar maturity dropped 2 basis points, to 2.586 percent.
Commodities
Oil rose 0.9 percent following Tuesday's 2.4 percent decline. Crude had dropped to the lowest level in more than a month after Saudi Arabia signaled it's faring better than expected with low prices.
A gauge of iron-ore prices in China was down 1.7 percent at 524.50 yuan a ton. Gold traded little changed at $1,256.60, while copper futures declined 0.8 percent.
Source: Bloomberg
---