Oil climbed toward $51 a barrel
Crude rises after Saudi Arabia says agreement reached on cuts

Pound drops after U.K. threatens to quit Brexit negotiations
Oil advanced a fourth day in the build up to OPEC's gathering in Vienna this week, as speculation grows that production cuts will be extended into next year. The British pound dropped after the U.K. threatened to walk away from talks on its departure from the EU.
Crude headed for $51 per barrel, the highest in a month, as Saudi Arabia's energy minister said all producers participating in a deal to limit output agree on extending the cuts by nine months. Sterling was the biggest loser among major currencies in the wake of comments from Britain's Brexit Secretary David Davis, who said the country will walk away from negotiations unless the European Union drops demands for a divorce payment as high as 100 billion euros ($112 billion). The euro also fell, but the region's stocks edged higher as a sense of calm returned to equities following last week's surge in volatility.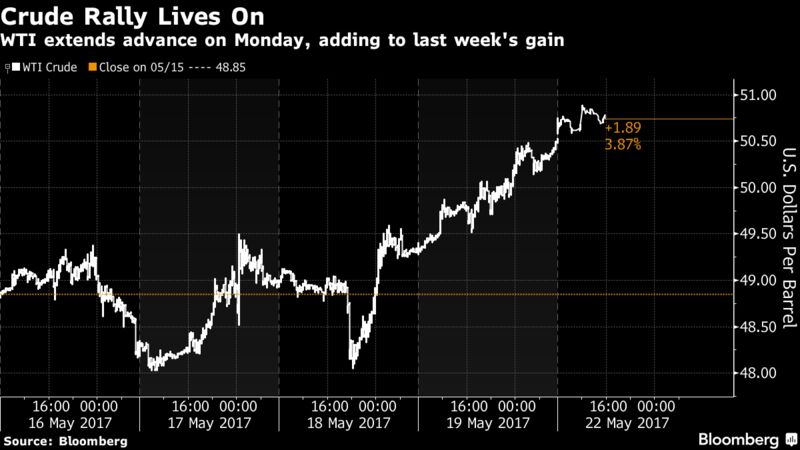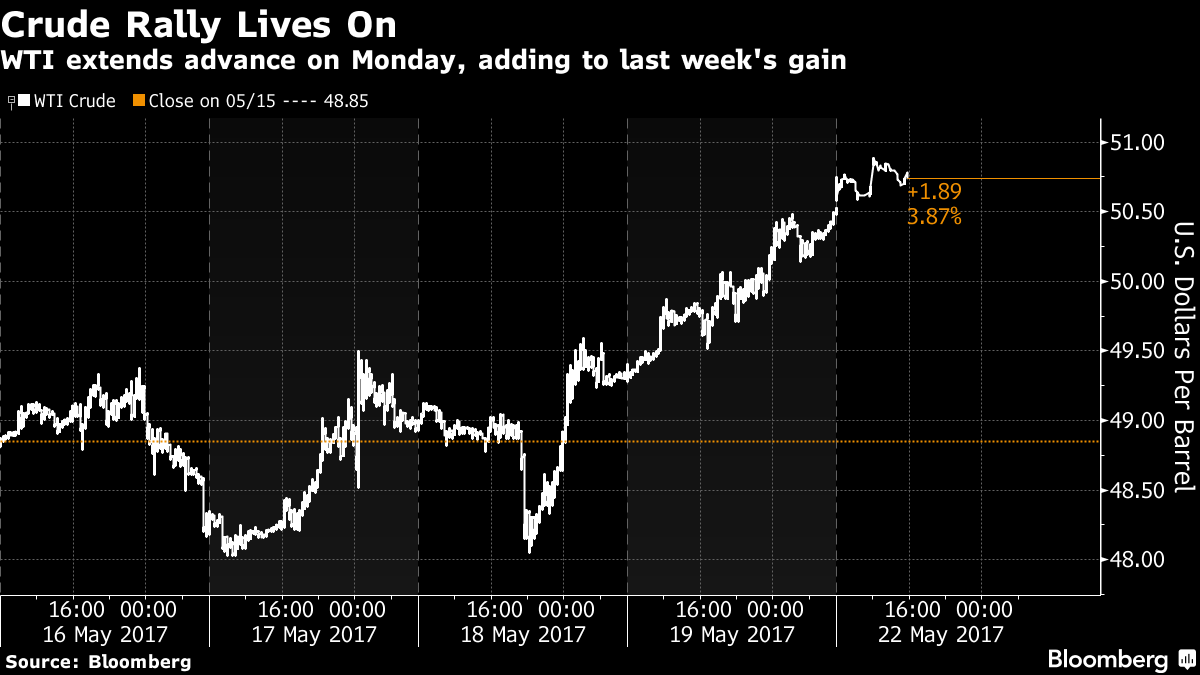 The relative tranquility across markets suggests investors are betting that global growth can weather political turmoil in the U.S. and Brazil, even as the world's largest economy edges closer to another increase in borrowing costs. Money managers will be scrutinizing minutes released this week from the Federal Reserve's latest meeting to gauge the chances of a rate hike next month.
Meanwhile, President Donald Trump is trying hard to deflect attention from the domestic political crisis surrounding former FBI Director James Comey. He's traveling in the Middle East, where U.S. companies have signed multi-billion dollar deals in the defense, energy and infrastructure industries, before continuing on to Europe.
"With Trump on a tour, the hope is we see less news over the next couple of days — a chance for the waters to settle," said Andrew Sullivan, a managing director for sales trading at Haitong International Securities Group Ltd. in Hong Kong. "It's another overhang on the market. We've got all these markets trading at highs and people don't want to miss out, but they don't want to be caught out."
Here are the key events for investors this week:
Donald Trump heads to the Group of Seven and NATO meetings in Europe.
Fed officials Patrick Harker and Neel Kashkari are both scheduled to speak Monday.
Twitter Inc. holds its annual meeting the same day. Shareholders will vote on a radical proposal to turn the company into a user-owned cooperative.
Euro-area finance ministers discuss Greece's bailout program, also on Monday.
The Trump administration will release its budget request on Tuesday.
Minutes from the May 3 Fed policy meeting will be released Wednesday.
A key OPEC decision will be made in Vienna on Thursday.
South Korea, Canada, South Africa and Thailand set interest rates.
And here are the main movers:
Asia
A rally in Tencent Holdings Ltd. helped send Hong Kong shares back toward a 22-month high. The Hang Seng China Enterprises Index jumped 1 percent while the Shanghai Composite slipped 0.5 percent. Japan's Topix rose 0.5 percent.
Commodities
West Texas Intermediate oil climbed 0.8 percent to $50.74 per barrel as of 9:54 a.m. in London, extending a 2 percent advance Friday.
Gold slipped 0.1 percent to $1,255.06 an ounce. The metal jumped 2.2 percent last week.
Currencies
The Bloomberg Dollar Spot Index advanced 0.2 percent after its worst weekly performance since July.
The pound lost 0.5 percent to $1.2973. The euro slipped 0.4 percent to $1.1166.
The Russian ruble strengthened 0.4 percent.
Stocks
The Stoxx Europe 600 Index rose 0.6 percent after the worst week since November.
Futures on the S&P 500 were little changed after the underlying gauge increased 0.7 percent Friday.
Bonds
Ten-year Treasury yields rose two basis points to 2.25 percent following their best week in a month.
Benchmark yields in the U.K. fell two basis points to 1.08 percent.
Source: Bloomberg
---