Yen stretches rally to seventh day; Asia Stocks Tumble
S&P 500 drops most since elections as reflation trades falter

Yen stretches rally to seventh day while gold maintains gains
Equities tumbled across Asia after the S&P 500 Index fell the most since Donald Trump's election, as stocks joined an unwinding of reflation trades amid uncertainty over prospects for the U.S. president's policies. The yen rose as investors sought haven assets.
The MSCI Asia Pacific Index dropped the most since December, with financial and commodity shares leading the selloff. Benchmark indexes in Japan, Hong Kong and Australia fell at least 1.4 percent after the S&P 500 Index sank more than 1 percent for the first time since Oct. 11. A gauge of emerging-market stocks halted an eight-day rally. A slump in government bond yields continued and the yen strengthened for a seventh day. Gold maintained gains while base metals tumbled.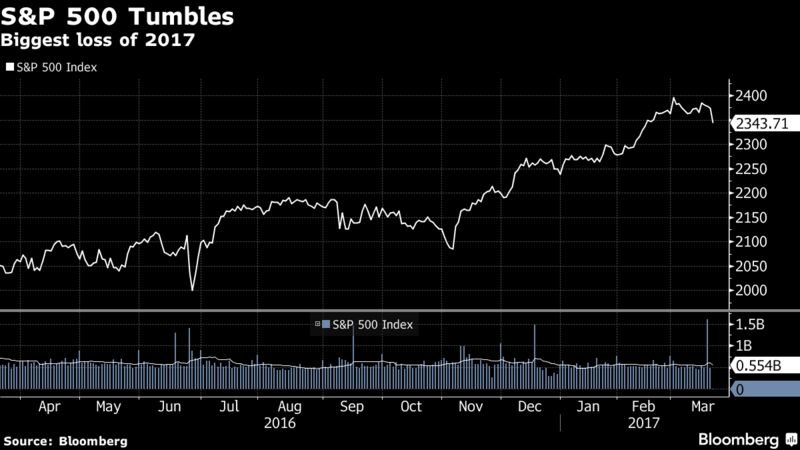 Volatility in financial markets is soaring after a period of relative calm as concern is mounting that pro-growth U.S. policies won't sail through Congress. The Republican plan to repeal and replace Obamacare is drawing strong opposition ahead of a crucial floor vote in the House. House Republicans warned failure to pass a health-care bill on Thursday could imperil tax and spending reforms.
"The reality is setting in that markets have expected too much from Trump," said Jonathan Ravelas, chief market strategist at Manila-based BDO Unibank Inc. "Investors are recalibrating expectations to reflect the reality that Trump's pro-growth agenda will not happen overnight but will take time and legislation. Markets have also gone up sharply — that allows for a technical correction."
Equities until now have largely escaped investors' efforts to unwind so-called Trump trades. While the dollar has been falling steadily since the beginning of the year, dropping more than 4 percent from a January peak, global stocks have been marching higher. The MSCI All Country World Index reached a record last week while the MSCI Emerging Markets Index closed Tuesday at the highest since June 2015.
"I believe markets do need a good reason to take profits, and here it is, " Margaret Yang, an analyst at CMC Markets in Singapore, wrote in an email. "This is a healthy step back because too much optimism has been priced in and markets have gone too high and too far."
What's coming up the rest of this week:
There's a steady lineup of U.S. Federal Reserve speakers this week, headlined by Janet Yellen on March 23, while central bank policy decisions are expected in New Zealand, the Philippines and Sri Lanka.
Earnings are due from companies including Tencent Holdings Ltd.
March PMI for France is due Friday, along with final fourth-quarter GDP figures.
Here are the main moves in markets:
Stocks
The MSCI Asia Pacific Index dropped 1.6 percent as of 3:04 p.m. in Tokyo. Japan's Topix lost 2.1 percent, for the biggest loss since Trump's election. The selloff comes despite data showing Japan's exports rose the most in two years in February.
Australia's S&P/ASX 200 fell 1.6 percent, also the most since November.
The MSCI Emerging Markets Index dropped for the first time in nine days, falling 0.9 percent.
South Korea's Kospi lost 0.6 percent. North Korea conducted a missile test on Wednesday morning that appeared to have failed, South Korea's defense ministry said, in what would be the latest provocation from Kim Jong Un's regime.
The Hang Seng Index dropped 1.4 percent, while a measure of Chinese shares traded in Hong Kong lost 2.1 percent, the most since Dec. 15 after closing at the highest in almost 17 months on Tuesday.
Contracts on the S&P 500 fell 0.4 percent. The benchmark index tumbled 1.2 percent to the lowest since Feb. 14 on Tuesday. Banks sank 2.9 percent for the steepest slide since June 24, the day after the U.K. vote to leave the European Union. The Stoxx Europe 600 Index fell 0.5 percent.
Currencies
The Bloomberg Dollar Spot Index climbed less than 0.1 percent, after slipping 0.3 percent on Tuesday to cap a five-day decline.
The yen strengthened 0.2 percent to 111.56 per dollar, the highest level since Nov. 28. The Australian dollar slipped 0.4 percent.
The British pound was little changed after jumping 1 percent Tuesday as U.K. inflation accelerated more than forecast to break through the Bank of England's target for the first time since 2013. The euro was also flat after climbing 0.7 percent in the previous session.
Bonds
The yield on 10-year Treasury notes declined less than one basis point to 2.42 percent, after sliding four basis points in each of the past three sessions.
Australian 10-year yields dropped five basis points to 2.76 percent. New Zealand equivalent rates retreated two basis points to 3.20 percent.
Commodities
West Texas Intermediate oil fell 0.4 percent to $48.05, dropping for a third day as U.S. crude supplies are forecast to climb.
Copper lost 0.6 percent following a 1.8 percent drop in the previous session amid signs supplies are returning. Disruptions caused the metal to surge last month to the highest level since 2015. Nickel fell 1.7 percent. Iron ore futures tumbled more than 4 percent, adding to Tuesday's steeper decline to approach a bear market.
Gold was steady at $1,245.35 an ounce, after five days of gains.
Source: Bloomberg
---