Asia Stocks Rise; Yen Gains
China shares in Hong Kong surge, Kospi drops after election

S&P 500 futures slip as Trump fires FBI boss James Comey
Asian stocks resumed a rally as Hong Kong shares jumped to a 21-month high. U.S. stock-index futures slipped as Donald Trump fired FBI Director James Comey, while the yen rose on concern over North Korea's nuclear program.
Chinese companies listed across the border climbed amid signs of stability in the Shanghai market. South Korean shares dropped from an all-time high following Moon Jae-in's presidential victory. The greenback slipped after reaching the highest in a month Tuesday in the wake of hawkish comments from Federal Reserve officials. The Nikkei 225 Stock Average closed in on the 20,000 level ahead of earnings by Japan's biggest companies.
Equities in Shanghai were steady for a second day, after a selloff erased at least $450 billion from the value of stocks and bonds since mid-April amid policy makers' moves to crack down on leverage. Chinese shares advanced even as data showed producer price gains slowed more than expected in April, adding to signs of a potential easing of global reflation fueled by the world's second-largest economy.
"Hong Kong investors had held back their action to await a stabilization in the mainland market and now they finally have the confidence to buy," said Linus Yip, a strategist at First Shanghai Securities.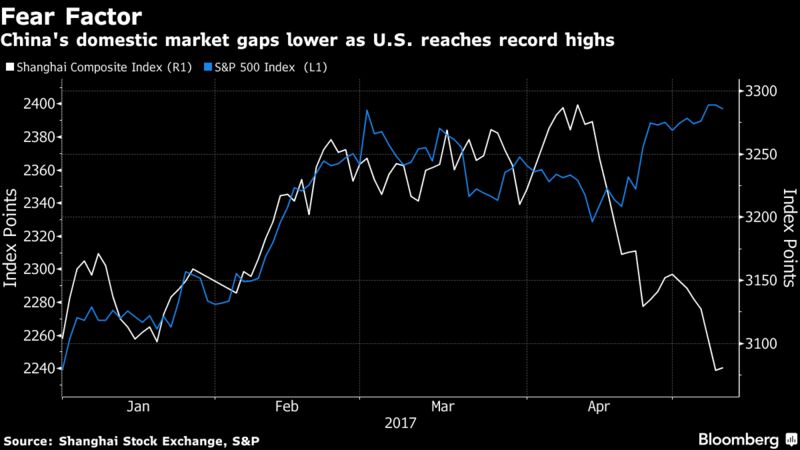 Optimism for global economic growth is helping drive down expectations for volatility in equity and fixed-income markets. With global stocks trading near record highs, earnings need to keep delivering to appease investors getting restless about higher equity valuations.
President Trump's dismissal of Comey comes amid the agency's investigation of Russian interference in last year's election. He said the bureau needed new leadership to restore "public trust and confidence." Read more here.
Here are key events investors will be scrutinizing:
Earnings are expected from companies including Toyota Motor Corp., Deutsche Telekom AG and Snap Inc.
The Bank of England on Thursday publishes its interest-rate decision and quarterly Inflation Report.
Here are the main moves in markets:
Stocks
The Hang Seng rose 0.9 percent as of 2:04 p.m. in Tokyo, to the highest level since July 2015. The Hang Seng China Enterprises Index jumped 1.6 percent, rallying for a third straight day. The Shanghai Composite Index climbed 0.2 percent, after reaching the lowest level since October earlier in the week.
Japan's Topix index increased 0.1 percent and the Nikkei 225 rose 0.2 percent. AMP Capital Investors Ltd. says cheap valuations and relative underperformance will allow for further gains for Japanese shares.
South Korea's Kospi slid 0.6 percent after swinging between losses and gains during morning trading. The gauge surged 2.3 percent on Monday, the most since September 2015.
Australia's S&P/ASX 200 gained 0.4 percent, reversing earlier declines as raw-material shares advanced with iron ore. Financial companies also rose, even as the government slapped lenders with a levy.
Markets in Malaysia, Sri Lanka, Singapore and Thailand are closed for holidays. India's bond and foreign-exchange markets are also shut, while equity trading operates.
Futures on the S&P 500 slipped 0.1 percent. The underlying gauge fell 0.1 percent Tuesday, while the CBOE Volatility Index edged higher after closing Monday at the lowest since December 1993. The Stoxx Europe 600 closed up 0.5 percent at the highest since August 2015.
Currencies
The yen rose 0.2 percent to 113.79 per dollar. The currency fell during the past three sessions to the lowest level since mid-March. The South Korean won fell 0.2 percent, paring an early loss of 0.5 percent.
The Bloomberg Dollar Spot Index lost 0.2 percent after climbing 0.3 percent Tuesday.
Bonds
The yield on 10-year Treasury notes fell one basis point to 2.39 percent. Australian 10-year yields dropped two basis points to 2.66 percent.
Commodities
Gold rose 0.1 percent to $1,222.70 an ounce. The metal dropped during the previous five sessions.
Oil climbed 0.7 percent to $46.22 a barrel, after dropping 1.2 percent on Tuesday.
Source: Bloomberg
---